Preparations:
This is the first Parallel Show Frans van Lent was not involved in. He asked me to organise this show, so I had to address my own network and think about what a parallel show could be. Since Gijs Velsink and I work together a lot, it was obvious to ask him to join me. But next to that, I wanted to ask some artists I was not acquainted with.
It became a chain reaction of Gijs recommending Karina Beumer, Karina recommending Timo van Grinsven, Timo recommending Erin Helsen. I liked the fact that some artists were not really focussed on performance art, but more on sculpture. It could give some new dimensions to The Parallel Show (although it turned out to be mostly about performance).
I choose Huis Van Gijn with conviction. I visited the Onderwijs Museum (education) and the Dordrechts Museum (with the painter Schalcken on display) as two other options, but this all seemed too sentimental. Too nostalgic.
Huis Van Gijn is a place where time stands still, but it seemed impossible to join this illusion. And next to that, the place is quite big with its four floors, but still small enough to stay visible. I liked the scale of this house, so it became a yes.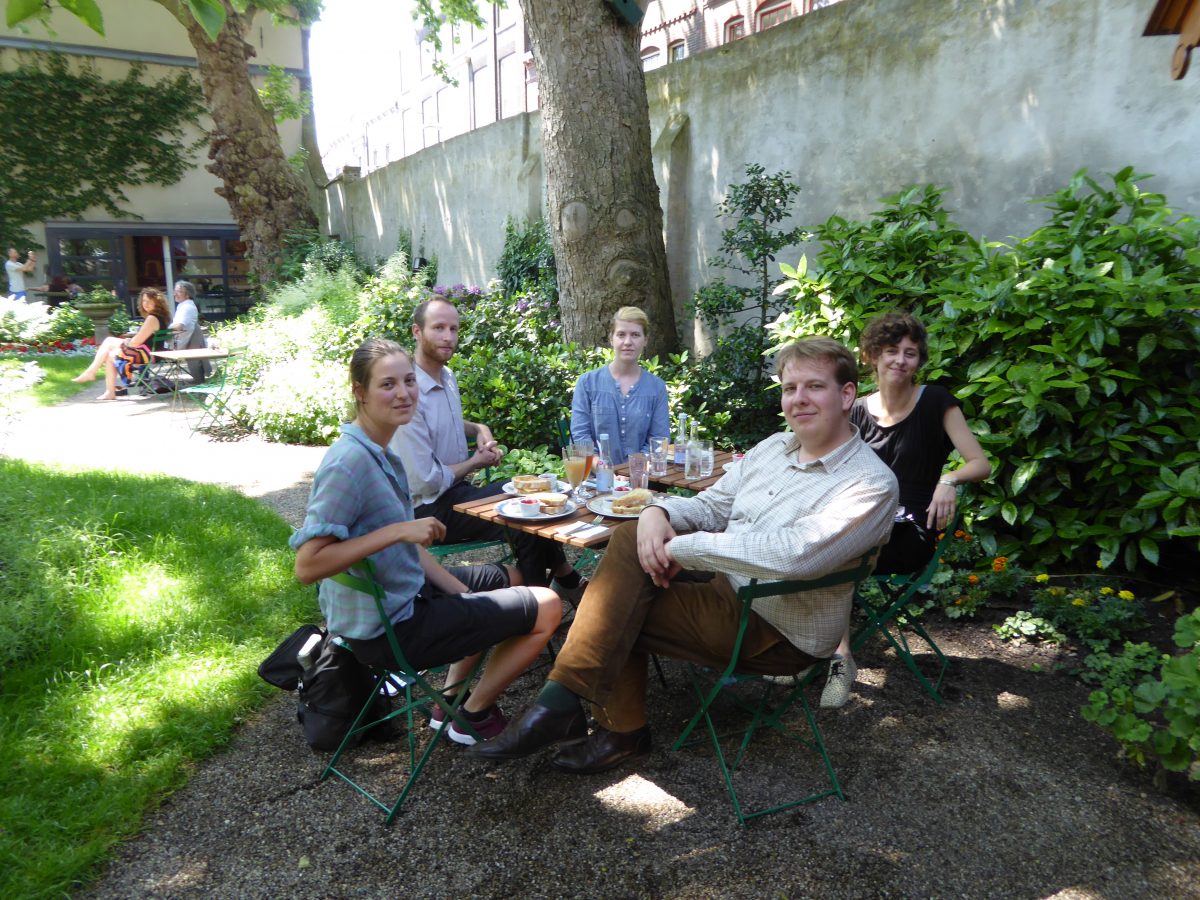 June 3, 2016
We met between 10.30 and 10.40 at the trainstation. Everybody was in time, so we enjoyed the sun and walked toward the museum. I guided, but walked the wrong direction without any doubts. A friendly resident mockingly lead us the right way. He lived in the same street at no. 164 and we said goodbye.
On 11.05 we entered Huis Van Gijn. It was allready busy and we had some coffee / tea in the garden and got to know each other a little bit. I explained something about the background of this event and after that, we started our visit / tour / expedition / inspection of the museum.
At some points, I was alone, at some points I talked and looked together with the other artists. I guess this was the same for everybody.
We met again at 13.30 in the garden and we had a delicious lunch. We spoke about striking features, our ideas, options to do. Karina immediately suggested the idea of collaboration and everybody agreed. We made a list of stuff to do, in which I summarized the ideas the others came up with.
Suddenly, time flied, so we had to hurry up, since the museum was closing at 17 p.m. You can read about it in the other reports.
At closing time, we tried to extend the opening hours. As a last gesture, we wrote something in the guest book. Karina wrote the wrong date. We were the last ones leaving.