On Sunday 17 January 2016, at 10.00 AM we met at the entrance of the museum, Lisa, Malou, Andrew and myself. After a mutual introduction, some of us did not meet before, we went up the stairs to the members club. We had a coffee and discussed the basic conditions: the concept of theparallelshow, the open expectations and the absence of rules. We agreed to meet again at the same place at 12.30 for lunch and individually left to visit the exhibitions.
The installation of Susan Philipsz: War Damaged Musical Instruments in the Duveen galleries, dominated every other exhibition in the museum. The sounds could be heard everywhere.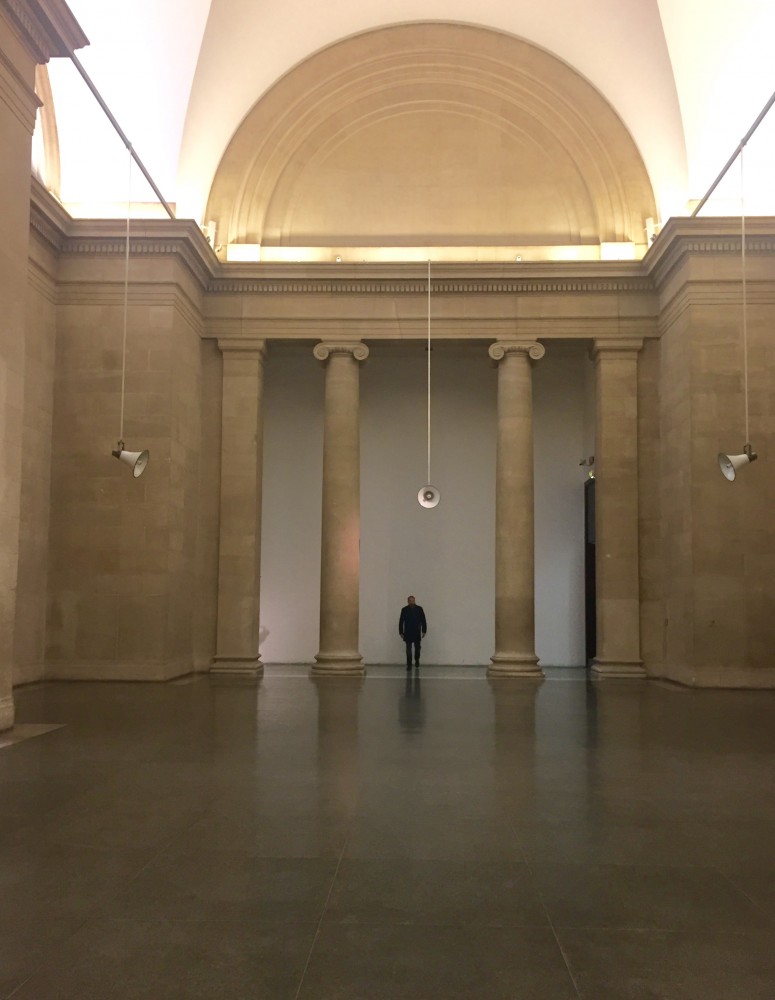 Andrew in the Duveen Galleries
We all started our explorations in this main hall. After that everyone focussed on the exhibitions that personally seemed to be the most appealing, so we all had very different experiences.
During lunch in the Members Room we discussed possibilities and plans. We talked about a possible groupwork in the installation of Susan Philipsz but nothing practical came out of that. The military aura of the work was just too big, too overwhelming. So we decided to follow our personal preferences. Before we left Malou handed us some of her stickers of the Dutch National Heritage Sign, to give away when possible.
We spread over various exhibitions and followed our impulses.
Dates are inscribed into the building itself, a chronological index.  We navigated and rendezvoused using chronological markers rather than cartographic ones. (Andrew).
We communicated by texting the years of the locations: I am in 1900, are you still in 1960?.
Around 17.00 we gathered in the basement cafe for a last beer and a concluding conversation.
At closingtime we left the building.
photo's: © FvL